Edit on GitHub
Troubleshooting
Errors When Running 'make run-android'
Error message
React-native-vector-icons: cannot find dependencies
Solution
Make sure the Extras > Android Support Repository package is installed with the Android SDK.
Error message
Execution failed 

for

 task 

':app:packageAllDebugClassesForMultiDex'

.
> java.util.zip.ZipException: duplicate entry: android/support/v7/appcompat/R

$anim

.class
Solution
Clean the Android part of the mattermost-mobile project. Issue the following commands:
cd android
./gradlew clean
Error message
Execution failed 

for

 task 

':app:installDebug'

.
> com.android.builder.testing.api.DeviceException: com.android.ddmlib.InstallException: Failed to finalize session : INSTALL_FAILED_UPDATE_INCOMPATIBLE: Package com.mattermost.react.native signatures 

do

 not match the previously installed version; ignoring!
Solution
The development version of the Mattermost app cannot be installed alongside a release version. Open android/app/build.gradle and change the applicationId from "com.mattermost.react.native" to a unique string for your app.
Error Message
[Error] Error: Compilation of µWebSockets has failed and there is no pre-compiled binary available for your system. Please install a supported C++11 compiler and reinstall the module 'uws'.
... looping infinitely ...

Solution
You are most likely using the wrong version of node and npm. Recommended versions are node 10.11.0 and npm 6.4.1.
Errors When Running 'make run-ios'
Error message
xcrun: error: unable to find utility 

"instruments"

, not a developer tool or in PATH
Solution
Launch XCode and agree to the terms first.
Go to Preferences -> Locations and you'll see an option to select a version of the Command Line Tools. Click the select box and choose any version to use.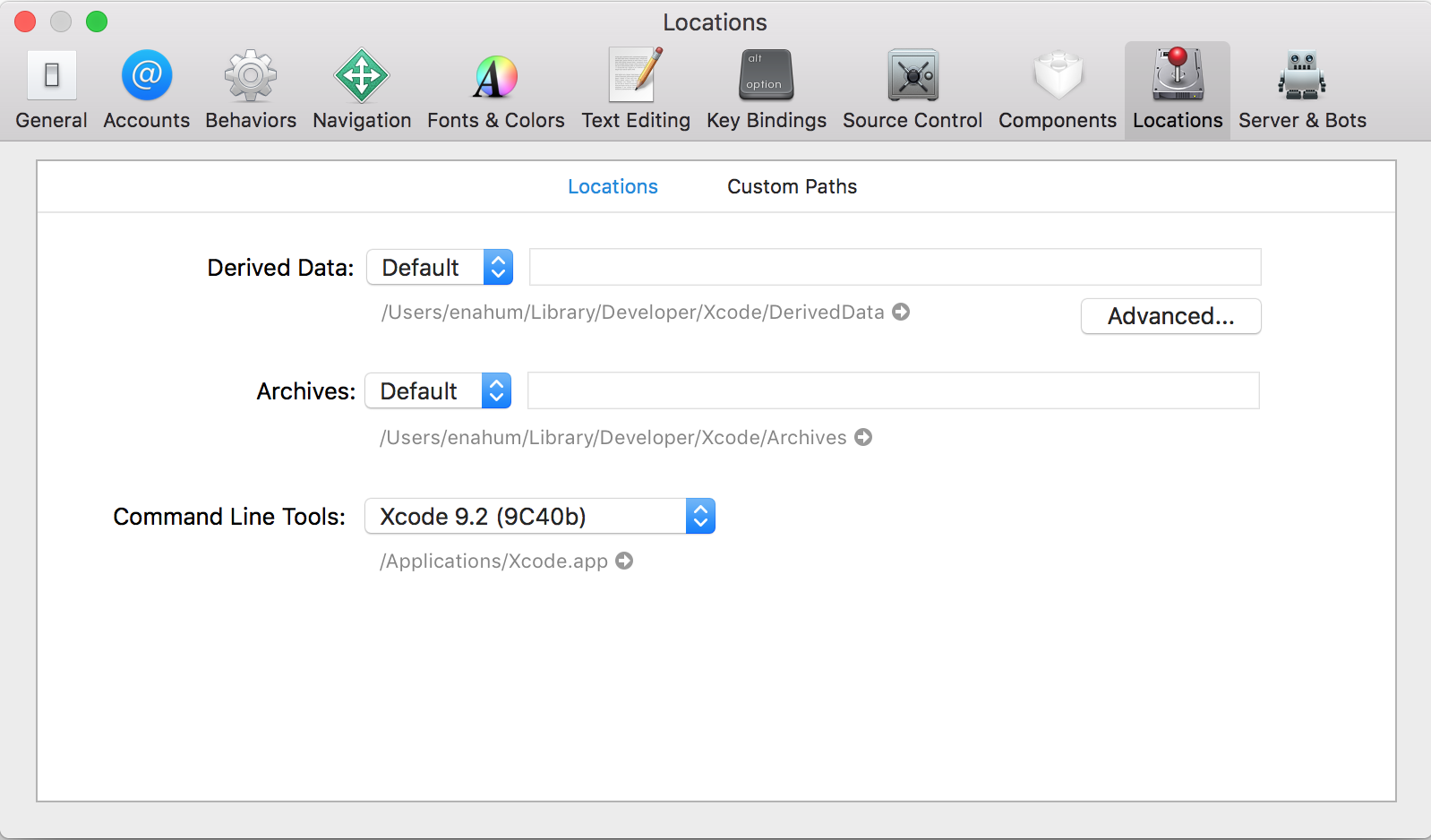 After this go back to the command line and run make run-ios again.
Error message
Getting Cocoapods dependencies
/Library/Ruby/Site/2.0.0/rubygems/dependency.rb:315:in 

`

to_specs

': Could not find '

cocoapods

' (>= 0) among 17 total gem(s) (Gem::LoadError)


Checked in '

GEM_PATH

=

/Users/<username>/.rvm/gems/ruby-2.4.2:/Users/<username>/.rvm/gems/ruby-2.4.2@global

', execute `gem env` for more information


    from /Library/Ruby/Site/2.0.0/rubygems/dependency.rb:324:in `to_spec'


    from /Library/Ruby/Site/2.0.0/rubygems/core_ext/kernel_gem.rb:64:in 

`

gem

'


    from /Users/<username>/Software/ruby/bin/pod:22:in `<main>'


make: *** 

[

.podinstall

]

 Error 

1
Solution
Errors When Running 'react-native packager'
Error message
FATAL ERROR: CALL_AND_RETRY_LAST Allocation failed - JavaScript heap out of memory
Solution
Increase max_old_space_size of the NodeJS instance.

On macOS, add the following line to your ~/.bash_profile file: export NODE_OPTIONS=--max_old_space_size=12000

Then reload your bash configuration: